Merrimac Chiropractor : Dr. Kathy Fowler
Falling Down A Flight Of Stairs Lead Me To Chiropractic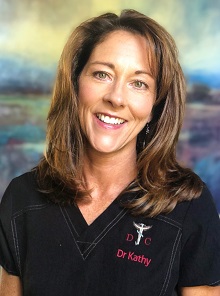 Who would have thought that falling down an entire flight of stairs would be a good thing, but to me it was life altering. It was my senior year of high school, my mind was made up and so was my career path, or so I thought. I had plans to attend a five year masters program which would fulfill my dream of being a physical therapist, when everything came crashing down. I fell head over heels down 12 stairs, landing in a heap at the bottom of my parent's stair case. In the days and weeks following the accident I began to notice my neck getting stiffer, my headaches became daily and the ringing in my ears was constant. It was my mother who suggested I go see chiropractor, Dr. Len Gauthier. It was from that first adjustment that I knew I had found something so special, that I needed to be part of it. I immediately changed my college plans and my path for life.
Chiropractic Education
In the fall of 1986 I drove to Davenport, Iowa to begin my chiropractic education. Palmer Chiropractic College has a very challenging curriculum. I was surprised at the intensity of study it took to become a DC. The instructors and the pace of the studies were tough. But as I have found out, now being in practice for 31 years, the depth of our studies is something I have been able to lean on many times.
Impulse Adjusting Technique
The technique I use to adjust is Impulse. It is a mechanical adjusting device. It is a technique that is very precise, and very gentle. It eliminates the "cracking" most people associated with a manual adjustment. This patented and registered device was developed to provide gentle and precise computer-aided chiropractic adjustments to relieve pain and restore function. Impluse iQ is controlled by micro-computer circuitry housed within the device that produces a controlled force that chiropractors can use to treat different parts of the body. My patients love how this technique feels. For more information on this technique go to www.goimpulse.com
Family Life
I have two amazing kids. My son Cameron and his wife live in California , and my daughter Rachel and her husband live in Haverhill. We get together many times throughout the year for holidays, vacations, and to travel to new destinations to explore. I am a very active person. I believes that both my body and mind feel better when I move and it is something I do everyday. I enjoy biking, yoga, skiing and walks with my dog Bailey around our city of Newburyport.
Chiropractic Philosophy
These bodies we walk around the world in need to be cared for. Sometimes it is due to an injury or accident, and sometimes it is due to redundant activities that we will have pain or restriction with movement.
I believe that Chiropractic care is wonderful for both of these issues. Keeping our bodies moving as fluidly as possible without restriction is imperative to allowing our nervous system to function properly. Chiropractic adjustments are the vehicle to achieve such a goal.
Thanks for visiting our site. We look forward to meeting with you in person and learning how chiropractic can fit into your health care goals. Give our Merrimac chiropractic office a call or click here to email us and we can arrange a time to explore your options!